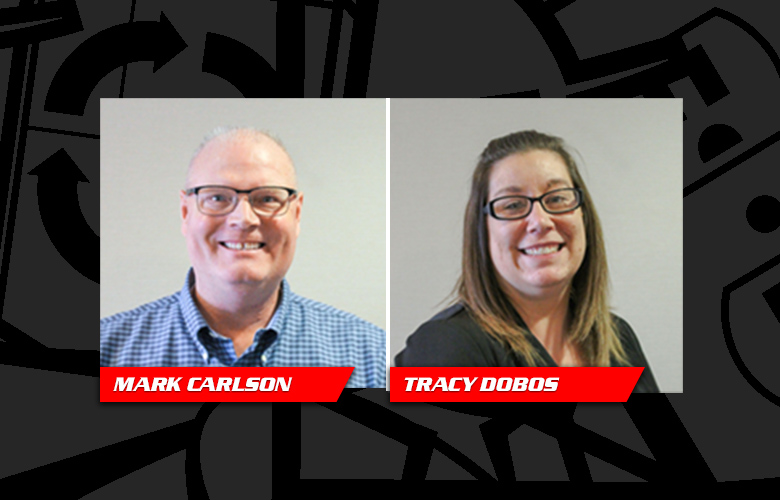 Dakota Supply Group (DSG) recently named Mark Carlson as Purchasing Manager for its mechanical product segments (HVAC/R, plumbing, waterworks) and Tracy Dobos as Purchasing Manager for its electrical product segments (electrical, communications, utility). They will be responsible for providing direct leadership to Purchasing Teams across all DSG branches regarding prod-ucts in their respective areas. Additionally, they will also work closely with all sides of management to proac-tively develop effective purchasing strategies and identify any potential product issues.
Prior to holding the role of DSG's Purchasing Manager – Mechanical, Mark Carlson worked as a PVF buyer for a petroleum refinery and pipeline, then spent over 20 years as Mechanical Purchasing Manager for Egan Company, a well-known specialty construction contractor in Minnesota. He also served 26 years in the U.S. Army Reserve as an Engineer Officer and pilot.
Before accepting her promotion to Purchasing Manager – Electrical, Tracy Dobos most recently served as DSG's Senior Purchasing Agent for products serving its electrical, utility and communication industries. She has been a member of DSG's team for over 15 years.
"We have many opportunities to develop purchasing strategies and processes that will lay the foundation for the operational excellence we're striving for," says Rod Hicks, DSG's VP of Operations. "Additionally, getting closer to our sales organization and customers is a major step towards connecting DSG purchasing to our pillar of providing a World Class Customer Experience. Mark and Tracy are the perfect people to drive this, and I'm excited to watch their leadership and experiences positively impact our customers."