Diode LED DI-24V-SE-100W SWITCHEX® 24V Switch/Driver Combo - 100W - 50513
Lighting
50513
MFG #: DI-24V-SE-100W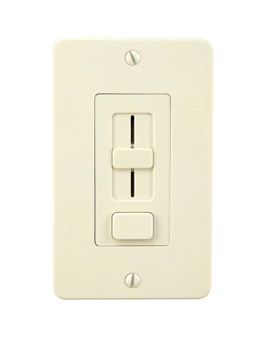 SWITCHEX® combines an LED dimmer switch and low-voltage LED power supply into a single integrated unit. The SWITCHEX Dimmer + Driver accepts 120 VAC and converts it to low-voltage DC, all within a standard electrical box. With power options up to 100W, it is a true evolutionary step forward for power and control of LED applications.
The integrated LED driver that converts 120 VAC to either 12 VDC or 24 VDC. That means this is all you need between your line voltage and low voltage lighting. Best of all, it all fits in a single gang box.
With four different SWITCHEX models, three interchangeable face plate colors are included in each SWITCHEX box allowing customers to choose the look that matches their installation decor. Included face plates are; glossy white, glossy light almond and glossy brown (trim plate not included).
PRODUCT INNOVATION AWARD
Switchex is the winner of the Product Innovation Award in the Components & Light Source Category for Architectural SSL Magazine. The decision was made from a panel of judges, including lighting designers, lighting consultants and architects. See for yourself what professionals agree is true innovation in LED lighting